Sapporo Beer Festival starts Now!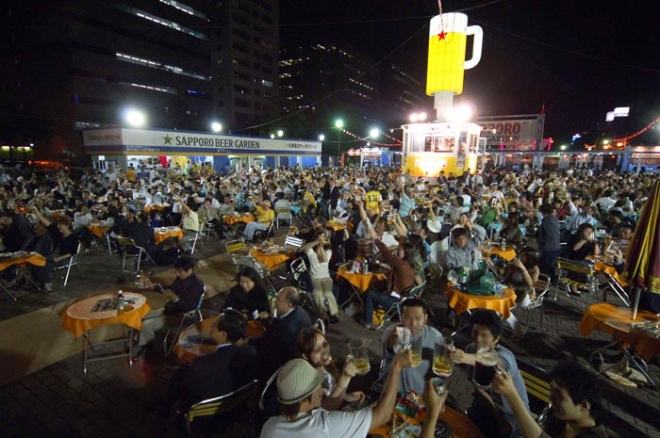 Odori Park in Sapporo is world famous for it's renowned snow festival that takes place every winter. Less well known but equally enjoyable and entertaining is the summer Sapporo Beer Festival.
The beer festival is a fantastic concept that by western standards borders on ridiculous and could only work in a country such as Japan and a city such as Sapporo. The festival spans 3 and a half weeks and 7 city blocks, on every block is a different brewery selling its wares and on every block there is often more than 2000 people enjoying a cool amber beverage or 3. One can only imagine the chaos that might occur if this was attempted in some western countries!
Each day the beer begins to flow at 11.00am and finishes up at 10.0pm, leaving drinkers the choice of a lazy beer in the afternoon or an evening of festive drinking amongst the locals at any one of your favorite Japanese breweries blocks. There is also an international section and Germany has a whole block of its own complete with a range of tasty sausages.
On the other blocks food is also well taken care of with a variety of traditional Japanese beer accompaniments. These range from the Hokkaido lamb barbeque specialty Genghis Khan to assorted grilled treats and of course Sapporo's famed ramen noodles.
For anyone visiting Sapporo during the summer the beer festival is a must do and a great chance to mingle with the locals, enjoy the sun, eat some fantastic fast food and best of all, all whilst enjoying an ice cold beer of your choice! Strongly recommended is finding a group of friends, a spot on the grass and investing in the goodness of a mighty 4ft Kirin beer tower. Kampai!
Written by:
Joel
Joel Westcot
Senior Writer, New Zealand Snowboard Magazine
Contributing Writer, Australia/New Zealand Snowboard Magazine
Contributing Writer, Manual Magazine