Sapporo Teine Ski Resort

Teine Highlands is, (yes I can finally say it) one of Hokkaido's, best kept secrets, a strange fact considering it is just 40 minutes from downtown Sapporo, a city of approximately 2 million people! Teine's draw cards are its terrain, its close proximity to the city and its lack of crowds at least during the week.
Teine is a fairly small resort with most of the terrain accessed by a recently installed high-speed detachable quad. The quad runs from the base and connects the lower mountain to the upper mountain where there are another two double chairs, one high-speed and one not so high speed.
Until the 08/09 season the whole mountain could be accessed via an antique cable car, which sadly has since been sent to pasture. The cable car provided not only a way up the hill but also a social meeting place for the locals and was inhabited by an eclectic mix of hard core Japanese locals and expat English teachers.
The terrain that the two double chairs access is fairly mellow with open cat tracks and a little tree skiing and riding to be had off trail. The upper and lower mountain is linked by cat tracks, one of which is for some dauntingly steep and was the site of the 1972 Olympic GS course.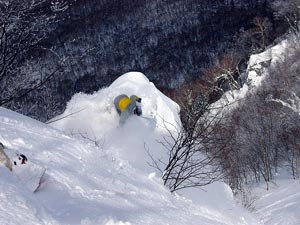 There is however another way down and this is what sets Teine apart from all the rest. Just a short hike from the top of the quad are 3 bowls all of which offer epic, steep fall line skiing and riding and although short are about as much fun as you can possibly have on a mountain. There are plenty more ways down too but you'll have to find those yourself! It is important to mention too, that all the bowls are out of bounds and not patrolled, enter at your own risk.
Teine stands at just over 1000 meters and commands superb views of the coastline from Otaru to Hamamasu and of the sprawling city below. On a fine day it is worth the trip just to enjoy the view and enjoy a hearty bowl of Buta Jiru [pork soup]. Teine is easily accessed via JR trains and city buses or by car. Accommodation is no problem as there are hotels all over the city, if your just there for the night the love hotels just down the road are a safe and cheap bet and an adventure in their own right!
Written by:
Joel
Joel Westcot
Senior Writer, New Zealand Snowboard Magazine
Contributing Writer, Australia/New Zealand Snowboard Magazine
Contributing Writer, Manual Magazine